Benefits of MULTI-FORM tiles made from RHEINZINK titanium zinc
Four forms, simple processing – endless options for modern interpretations of the classic tile, diamond, square, rectangular and parallel tiles
MULTI-FORM: The new tile as an innovative facade system made by RHEINZINK
Facade design is as individual as the projects themselves. The budget available for facade design is also different from project to project. Planners, architects and professional specialists are frequently asked to reduce costs while still producing pleasing results. This can only be achieved if both the necessary know-how and a suitable product are available. One outstanding example: MULTI-FORM by RHEINZINK.
MULTI-FORM is a further development of the classic tile adapted to be particularly cost-effective yet still reliable in application. MULTI-FORM was added to our programme of facade systems in early 2018 and is in keen demand. We would be delighted to explain why!
RHEINZINK MULTI-FORM programme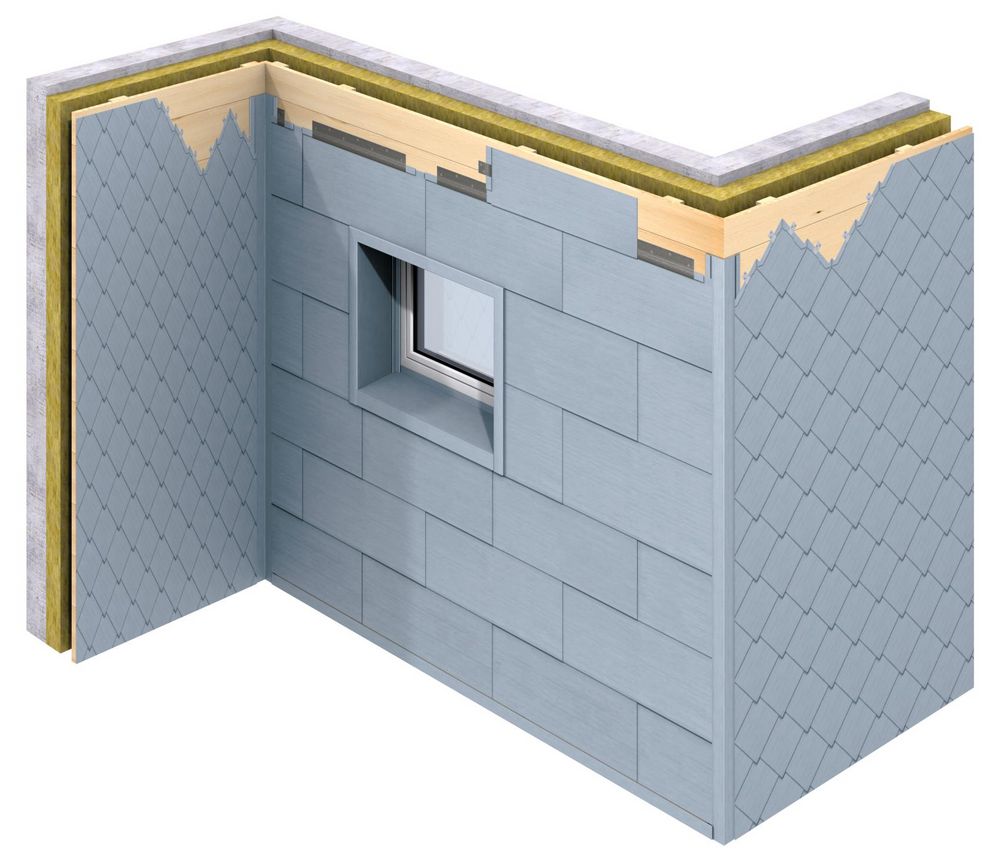 Features of RHEINZINK MULTI-FORM
Compared to classic tiles, the MULTI-FORM programme is less diverse but still provides great scope for planning with innumerable possible combinations. Moreover, it is very simple to attach and offers great room for creativity. MULTI-FORM is available as diamond, square, rectangular and parallel tiles and has the following impressive features:
The four available forms of the MULTI-FORM tile can be easily combined. Anything is possible, from facades with clean lines to a combination of these geometric elements
MULTI-FORM tiles are available in custom sizes suitable for your project and adapted to your customers' specialist requirements, where necessary.
The robust elements provide reliability and protection yet can be easily adapted to unusual building shapes
The sophisticated system technology makes quick, 1-man installation easy and simple
It is this time-saving installation in particular that convinces many planners, professional specialists and their customers of the benefits of this product. It is no secret that complex facade designs are also expensive. However, reducing the cost of installation by using MULTI-FORM, for example, lowers the overall cost.
MULTI-FORM – ideal for many areas of application
The RHEINZINK MULTI-FORM programme is designed to satisfy any requirements. Accordingly, it can be used for the overall facade design or on individual building sections, such as dormers, gables or chimney stacks. Property developers and professional specialists alike benefit from this ability. Property developers can always obtain a sufficient supply of products for complex projects while smaller specialist companies can also access the products they require at any time.
After a brief introduction, technicians can work quickly and accurately as the different tiles in the MULTI-FORM series can be installed rapidly and securely. Only one or two clips are required, depending on the type of tile. Important information on the system technology underlying MULTI-FORM products can be downloaded from our web page at any time. You will find informative materials and examples of successful projects in which MULTI-FORM has already been employed.
MULTI-FORM planning and application
System description
Simple fitted seam technology
Indirect, stress-free attachment with clips
Direct installation on softwood boarding or RHEINZINK VAPOwall
Direct installation on metal substructures (e.g. trapezoidal profiles)
Diamond, square, rectangular and parallel tiles from the new RHEINZINK MULTI-FORM tile group are impressive in every respect. Their design is characterised by two fold-forwards on the top edge and two fold-backs in the form of single seams on the bottom edge. The seamed corner formation on the top of the tile provides additional protection against water ingress. They are indirectly attached using clips.
Dimensions and metal thickness
Minimum visible face 302 x 210 mm, 26.74 tiles/m²
Maximum visible face 685 x 428 mm, 6.26 tiles/m²
Width and height of face (min/max): 200/530 mm
Minimum visible face 200 x 200 mm, 25 tiles/m²
Maximum visible face 530 x 530 mm, 3.56 tiles/m²
Basic length of face (min/max): 200/430 mm
Height of face (min/max): 180/370 mm
The metal thickness is 0.7 mm for RHEINZINK CLASSIC, RHEINZINK prePATINA and RHEINZINK artCOLOR surface finishes. MULTI-FORM tiles can also be supplied in 0.8 mm metal thickness on request.
Attachment
Each of the four tile geometries are attached using one or a maximum of two clips. The clip can be locked into the fold-back, thus attaching it quickly and easily to the substructure. We recommend using 4x25 mm Torx-drive screws made from galvanised steel or stainless steel as fasteners. This is based on the Guidelines for tinsmith work on roofs and facades (tinsmith regulations) published by the ZVSHK (German central association for plumbing, heating and air conditioning).
Diamond tiles are generally attached with one clip
Square tiles are attached diagonally using one clip, or two clips for construction widths > 400 mm
Horizontal attachment of square tiles and attachment of rectangular tiles and parallel tiles requires two clips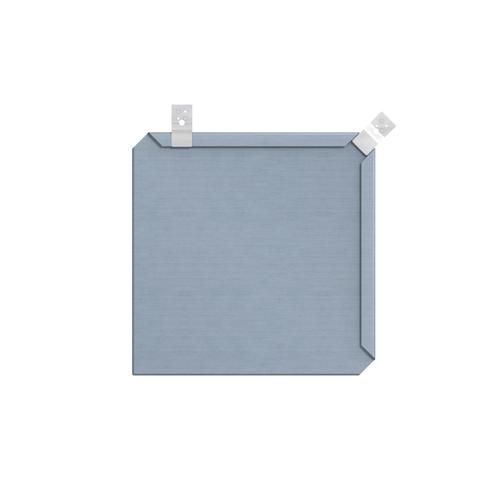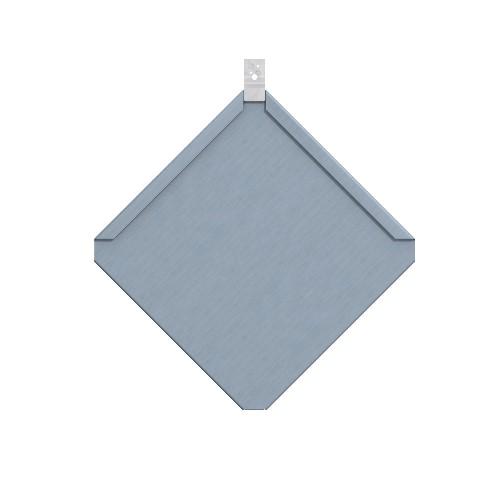 Further information on MULTI-FORM
We feel it is important to provide you with all the necessary information in a clear manner on our web page. Nevertheless, the RHEINZINK team is still available at any time to answer your questions and respond to suggestions or planning considerations. By the way, many of our customers not only use our MULTI-FORM series. We also provide further facade systems, panel systems and other facade design systems that leave nothing to be desired. You are sure to be impressed!
You are on our global website.
Would you like to stay on rheinzink.com or visit the local RHEINZINK America website?