You are on our global website.
Would you like to stay on rheinzink.com or visit the local RHEINZINK America website?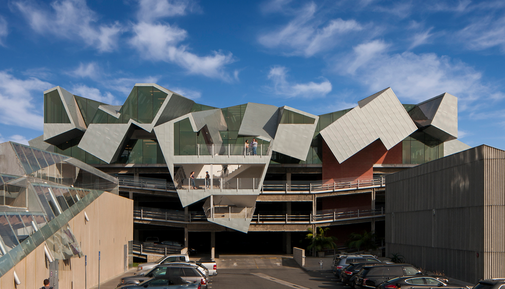 Pterodactyl
Culver City, CA, United States
Client
Frederick and Laurie Samitaur Smith
Los Angeles, CA
USA
Architect/Planner
Eric Owen Moss Architects
Los Angeles, CA
USA
Contractor
Architectural Metal Cladding, Inc. (AMC)
West Hollywood, CA
USA
Technical Specifications
Facade: 2,330 m² 21 t Flat Lock Tile System
RHEINZINK-prePATINA blue-grey
Roof: 334 m² 2.5 t Flat Lock Tile System
RHEINZINK-prePATINA blue-grey
Copyright Images
RHEINZINK
The industrial Culver City in California now has one more architectural highlight. A roof structure shaped like a flying pterodactyl was built on top of a car park. Along with Los Angeles, this city founded in 1913 was one of the centres of the US film industry for decades. While the buildings constructed in the 1970s and 1980s weren't always particularly beautiful, the place came to life again in the 1990s. Today the city is characterised by architectural artworks. A striking example of this is the addition of a three-storey car park. The pterodactyl lands on top of this, spreading its wings and bending slightly forward to look at the street. A total of 2,104 m² of RHEINZINK titanium zinc in the RHEINZINK-prePATINA blue grey quality were used. The installation system utilised flat lock tiles. You can find more details in the project report that can be downloaded on the left.