Proven classic: the half-round gutter from RHEINZINK
RHEINZINK-roof drainage in CLASSIC, prePATINA ECO ZINC and GRANUM
Are you looking for a zinc gutter that is durable, ecological and easy to install with the right accessories? Our proven classic - the half-round gutter in the CLASSIC, prePATINA ECO ZINC and GRANUM surface qualities - meets all these requirements. And even offers an attractive eye-catcher and a very good price-performance ratio. Why not see for yourself and follow us into the world of roof drainage.
Advantages of the half-round gutter
Large range of roof drainage systems from a single source

Precisely fitting and functionally reliable

Natural material - low maintenance surface
The half-round zinc gutters in detail
Roof drainage is a small but important component of any building. With its help, rainwater is reliably and effectively drained to protect the building. The use of rainwater in connection with roof drainage is also becoming increasingly popular - for ecological and economic reasons.
Our zinc gutters are the heart of a curtain wall roof drainage system. As part of a comprehensive roof drainage system, they are coordinated with all other components and are correspondingly flexible and convenient to use.
Using the RHEINZINK-rotary bracket, our in-house fastening system, a smooth and quick installation is guaranteed. Innovative accessories such as leaf traps, eaves strips, rainwater collectors or gutter heaters are unique on the market.
The perfect-fit zinc gutter
Due to the use of our leaf trap, the cleaning effort for the gutter zinc is reduced, a fact that is particularly appreciated by building owners. The precision fit of the gutters and system components are further advantages of the complete RHEINZINK range.
Three exciting surface variations
Details make life exciting. And architectural details can also give a building a new esprit. With our zinc gutters in three high-quality surface variations, your house will become an eye-catcher:
System technology roof drainage
System description
Roof drainage system according to DIN EN 612
Consisting of gutter, accessories and downpipe
Gutter with bead notch for simplified installation
RHEINZINK offers a variety of forms of gutters, downpipes and accessories. RHEINZINK-roof drainage products are manufactured and tested in accordance with DIN EN 988 and DIN EN 612. Depending on the nominal size, they are available in the surface qualities RHEINZINK-CLASSIC and RHEINZINK-prePATINA ECO ZINC.
Dimensions & Metal Thickness
Standard nominal gutter sizes 200 / 250 / 280 / 333 / 400 / 500
Metal thicknesses 0.65 mm / 0.7 mm / 0.8 mm depending on nominal size
Standard length 3.0 m (other lengths on request)
Standard nominal sizes downpipes (round) 50 / 60 / 76 / 80 / 87 / 100 / 120 / 150
Metal thickness 0.65 mm / 0.7 mm depending on nominal size
Standard lengths 2.0 m / 3.0 m depending on nominal size (other lengths on request)
The nominal gutter size indicates the material cutting. The nominal size for downpipes indicates the nominal diameter.
According to DIN EN 612, gutters are divided into classes X and Y according to their bead diameter or the corresponding section modulus. Downpipes are divided into classes X and Y according to the dimension of the seam overlap. RHEINZINK-gutter and downpipes correspond to Class X and thus also meet the requirements of Class Y.
Fastening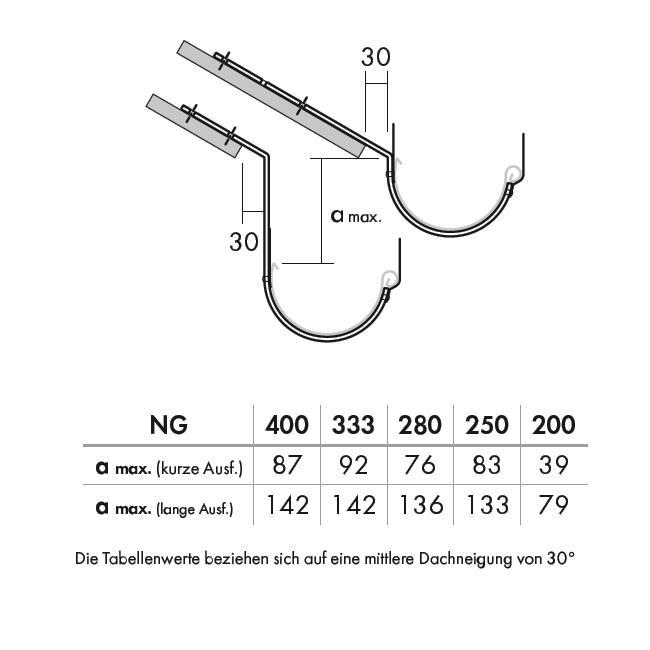 Fastening of the gutter with specially manufactured gutter bracket
Alternative: RHEINZINK-snap-lock bracket system
Connection of the individual gutter lengths by soft soldering or gluing
Fastening of rainwater downpipes with pipe clamps
Alternative: RHEINZINK-Universal downpipe bracket for round downpipes of all nominal sizes
The gutters are fastened in gutter brackets specially manufactured for this purpose (in accordance with DIN EN 1462). These in turn are fixed either to the eaves boarding, formwork, the rafter (if necessary also laterally) or to the wall. The gutter brackets must be sufficiently large to meet the local requirements.
Pre-hung gutter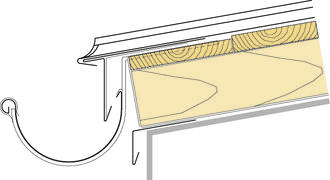 Roof drainage products according to DIN EN 612
Installation with or without slope
Dimensioning as a pre-hung gutter in accordance with DIN EN 12056-3
Pre-hung gutters can be installed with or without a slope to the drains. Standing water in the gutters does not constitute a defect.
In the event of a heavy rain event above the design rainfall intensity, emergency drainage takes place via the front edge of the gutter.
On-sill gutter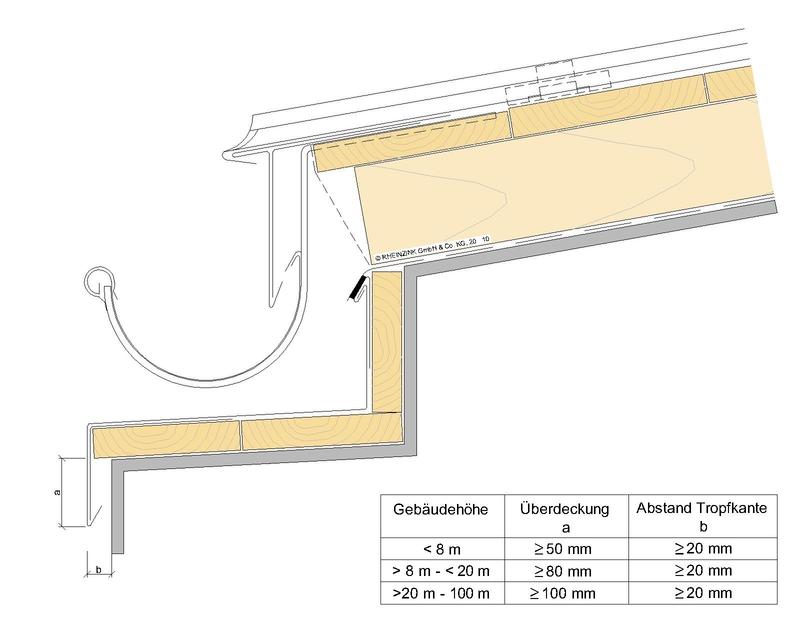 Roof drainage products according to DIN EN 612
Installation with or without slope
Dimensioning as a curtain-type gutter in accordance with DIN EN 12056-3
The on-sill gutter differs from the pre-hung gutter only by the additional installation of a cornice cover, which is, however, technically completely separate from the gutter. If the RHEINZINK-roof drainage accessories cannot be installed, a craftsman's version must be used.
The cornice cover can be attached to a full-surface substructure using adhesive strips or glued. The minimum cross slope of the cover should not be less than 3° to avoid standing water.
On-roof gutter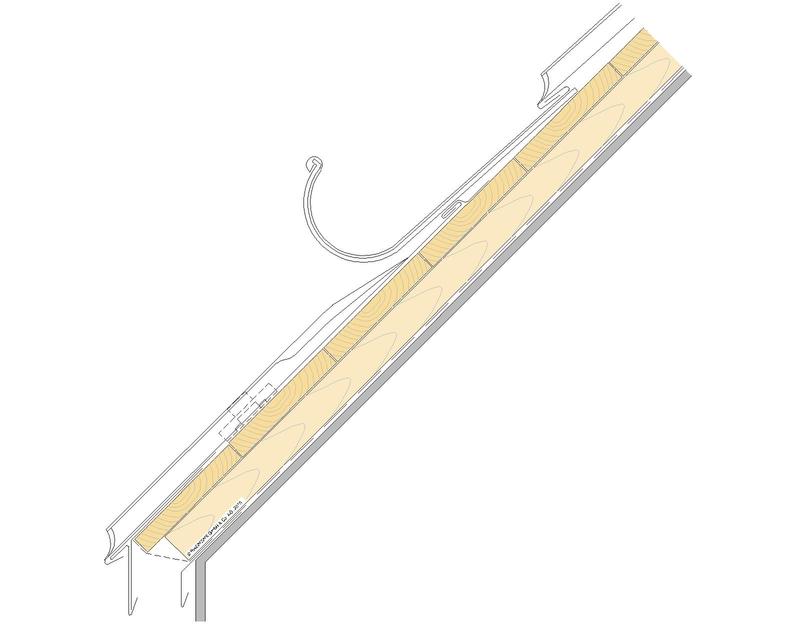 Standard nominal sizes 400 / 500
other nominal sizes up to 1000 mm on request
Slope lengthwise ≥ 5 mm/m
Dimensioning as a curtain-type channel
As it drains to the outside, the on-roof gutter belongs to the pre-hung drainage system. It is installed on the roof cladding with a recommended minimum gradient of 5 mm/m. The roof-side elevation of the on-roof gutter in relation to the front gutter bead must be ensured with at least 10 mm. The roof pitch should therefore not be less than 15° in order to avoid cutting the gutter by more than 1000 mm. Due to the cut, a minimum roof pitch of 40° is required for the standard nominal size 400, and a minimum roof pitch of 25° for the nominal size 500.
The required seam covering can be executed in different roof covering types. The most common is probably the double standing seam roofing. Hem coverings in angled standing seam, click strip system, rhombus and also a smooth design can be executed.
Installation Instructions

Expansion Element/Bewegungsausgleicher

Material for Generations

Better Living with RHEINZINK

Installation Instructions

Rain Collector/Regensammler/Récupérateur pour tuyau de descente

Roof Drainage With A System

Better Living with RHEINZINK

Installation Instructions

Universal Downpipe Bracket/Universal Fallrohrhalter/Kit de fixation pour descente
You are on our global website.
Would you like to stay on rheinzink.com or visit the local RHEINZINK America website?