You are on our global website.
Would you like to stay on rheinzink.com or visit the local RHEINZINK America website?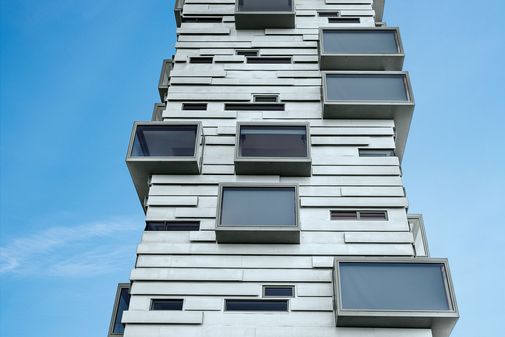 Charlottehaven The Tower
Copenhagen, Denmark
Client
Owner of H.S. Kryolitentreprise A / S, Mr. Finn Harald Simonsen
Copenhagen
Denmark
Architect/Planner
Lundgaard & Tranberg
Copenhagen
Denmark
Contractor
Kai Andersen A / S, Holte
Denmark
Technical Specifications
Facade: 3,000 m² 45 t Angled Standing Seam System, Cassette System
RHEINZINK-CLASSIC bright rolled
Copyright Images
RHEINZINK
Creating a reference to the former industrial environment was the inspiration for Lundgaard & Tranberg Architects when designing the façade of the Charlottehaven The Tower in the Copenhagen district of Østerbro. The building is 16 storeys and 54 metres high, and is clad with rectangular cassettes of varying depth and length made of bright rolled titanium zinc, which vary in depth and length. A total area of around 3,000 m² was designed with the three-dimensional cassettes, processing around 45 tonnes of titanium zinc. The lively design due to the natural weathering of the material underlines the dynamic appearance of the tower.