You are on our global website.
Would you like to stay on rheinzink.com or visit the local RHEINZINK America website?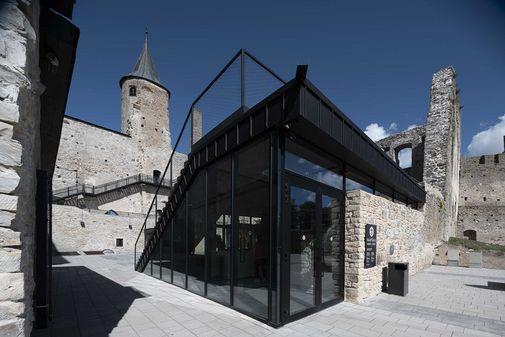 Haapsalu Castle
Haapsalu, Estonia
Client
Foundation of Haapsalu and Läänemaa Museums
Haapsalu
Estonia
Architect/Planner
KAOS Arhitektid OÜ
Tallinn
Estonia
Contractor
UAB " LUKARNA"
Čekoniškės
Lithuania
Technical Specifications
Facade: Angled Standing Seam System
RHEINZINK-GRANUM basalte
Roof: Angled Standing Seam System
RHEINZINK-GRANUM basalte
Architectural Details:
RHEINZINK-GRANUM basalte
Copyright Images
RHEINZINK
Haapsalu Castle is one of the best preserved castles in Estonia. Built in the 13th century, it was the seat of local authorities until the end of the 17th century. Since then the main castle has been a ruin, which nowadays invites visitors to view the castle structure and the town of Haapsalu from high above. The newly built entrance pavilion provides an exciting synergy between historical and modern construction. Due to the durability and recyclability of titanium zinc, RHEINZINK was chosen as material. The pavilion was cladded with the RHEINZINK angled standing seam system in the new GRANUM basalte surface. Thanks to its aesthetically even and matt surface, the surface conveys a very natural impression and harmonizes perfectly with the natural stones of the ruins.