You are on our global website.
Would you like to stay on rheinzink.com or visit the local RHEINZINK America website?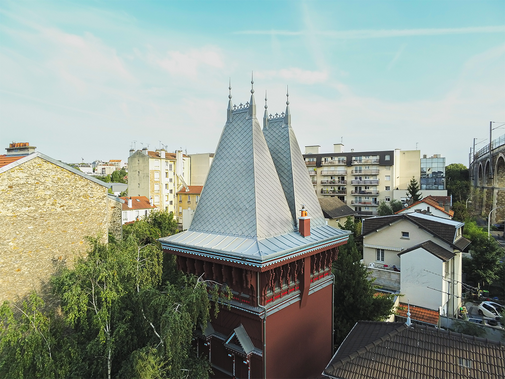 Maison Datcha - Pavillon de la Russie
Nogent-sur-Marne, France
Architect/Planner
Frédéric Bogino Architecte DPLG
Paris
France
Contractor
ACORUS TECHNIBAT
Gennevilliers
France
Technical Specifications
Architectural Details:
RHEINZINK-GRANUM skygrey
Roof: Click Roll Cap System, Square Tile System
RHEINZINK-GRANUM skygrey
Copyright Images
Safidrone
A PIECE OF HISTORY Definition of a Dacha («дача» in Russian): Slavic second home located in the countryside.
The Datcha, also known as the Pavilion of Russia, embodies a piece of history. This building emblematic of Russian architecture took part in the 1878 Paris Universal World's Fair. Since it was first held in 1851, this exhibition has always aimed to showcase the technical and artistic skills of different nations. The choice of square tiles was an obvious one at the time, given the Russian architectural heritage, as wooden shingles were common in the country's typical towns and villages.
Moved from the capital to Nogent-sur-Marne, the pavilion is now a private residence. During its renovation, the company ACORUS TECHNIBAT opted for our RHEINZINK-GRANUM skygrey range for the roof and ornamentation.
The square tiles were manufactured at our French production and shaping site.