You are on our global website.
Would you like to stay on rheinzink.com or visit the local RHEINZINK America website?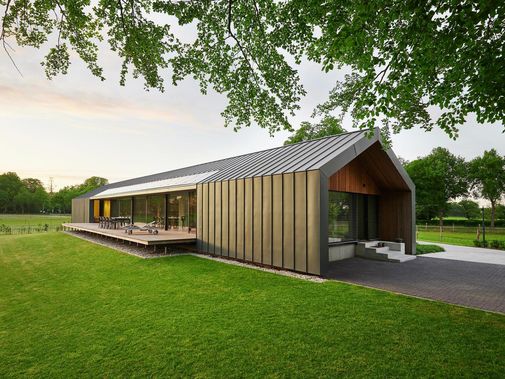 Residential Building Schuurwoning
Glimmen, Netherlands
Architect/Planner
Studio SKA
Niekerk
Netherlands
Contractor
Bouwmetaal
DD Tubbergen
Netherlands
Technical Specifications
Roof: 6 t Angled Standing Seam System
RHEINZINK-prePATINA graphite-grey
Facade: Angled Standing Seam System
RHEINZINK-prePATINA graphite-grey
Copyright Images
RHEINZINK
Stylish home for people and animals
Studio SKA was tasked with designing a building that would meet the client's desire for optimal views to the west and privacy to the street side. The client had acquired the property in 2014 with the intention of demolishing the existing different buildings and replacing them with a simple volume. The natural slope on the south side with it's old trees that remained formed the starting point for the ground level of the entire house. The result is an elongated, flattened volume that rests on the slope on the south side and seems to float above the ground on the north. The main living areas are arranged like compartments of a long train, with space for ancillary features such as a garage and storage room. The addition of a horse barn interrupts the composition of the long house and the entrance to the basement is hidden by a loop of the driveway.
The residential building is clad with RHEINZINK in the surface quality prePATINA graphite-grey. The uniformity of the roof and façade skilfully round off the noble appearance. In addition, the wooden elements form a warm contrast. The combination of materials has a friendly and inviting effect and offers a stylish home for people and animals.