Louisvale Wine Estate
Louisvale Wine Estate nestles in the Devon Valley foothills of the three million year old Cape Folded Mountains. The environmental history of this area was the inspiration for architect, Christof Albertyn's iconic wine emporium design.

The first manmade structures in the area were created by the Khoekhoe, some 2000 years ago. Their domed structures were made from taaibos laths, covered with woven reed mats and animal skins.

When the colonialists from Europe arrived in the area during the 15th century they brought with them vines, oak trees and built white painted plastered houses with gables reflecting patterns from their home countries.

The design rationale behind the Louisvale Wines Wine Emporium is a marriage of the above elements embodied in a contemporary structure. The soft curve of the Rheinzink cladding reflects the shape and surface of the Khoekhoe reed mat hut, supported by curved steel rails, connected by floating glass to the polished concrete floor, infused with chips of perlemoen shell.

The Rheinzink dome hovers over a low concrete roof planted with restios which reflects the thatched roofed Nieu Cape Dutch style 1924 homestead and connected with a glass roofed passage.

The dome facade peels away in strategic places in organic curved shapes to maximise the views of the distant mountains. These glazed cave-liked openings on the other hand reflect the shape of the openings in the perlemoen shells.

The result is a contemporary yet timeless venue which hosts a magnificent wine emporium as well as many corporate events, weddings and birthday celebrations.

The building's unique geometric facade illustrates the versatility of what skilled craftsman can create using Rheinzink material. With its natural weathering and patina this was the perfect material to enhance this awe-inspiring building.

To complement the national availability of the Rheinzink roofing, facade cladding and water drainage systems, the company's South African office offers a comprehensive support service, including technical assistance on application technique and specifications for planners and installers.

RHEINZINK in South Africa
Tel: +27 21 6712600
info[at]rheinzink.co.za

Christof Albertyn Architect
+21 82 572 2844
christoffarch[at]gmail.com
Ulstein Arena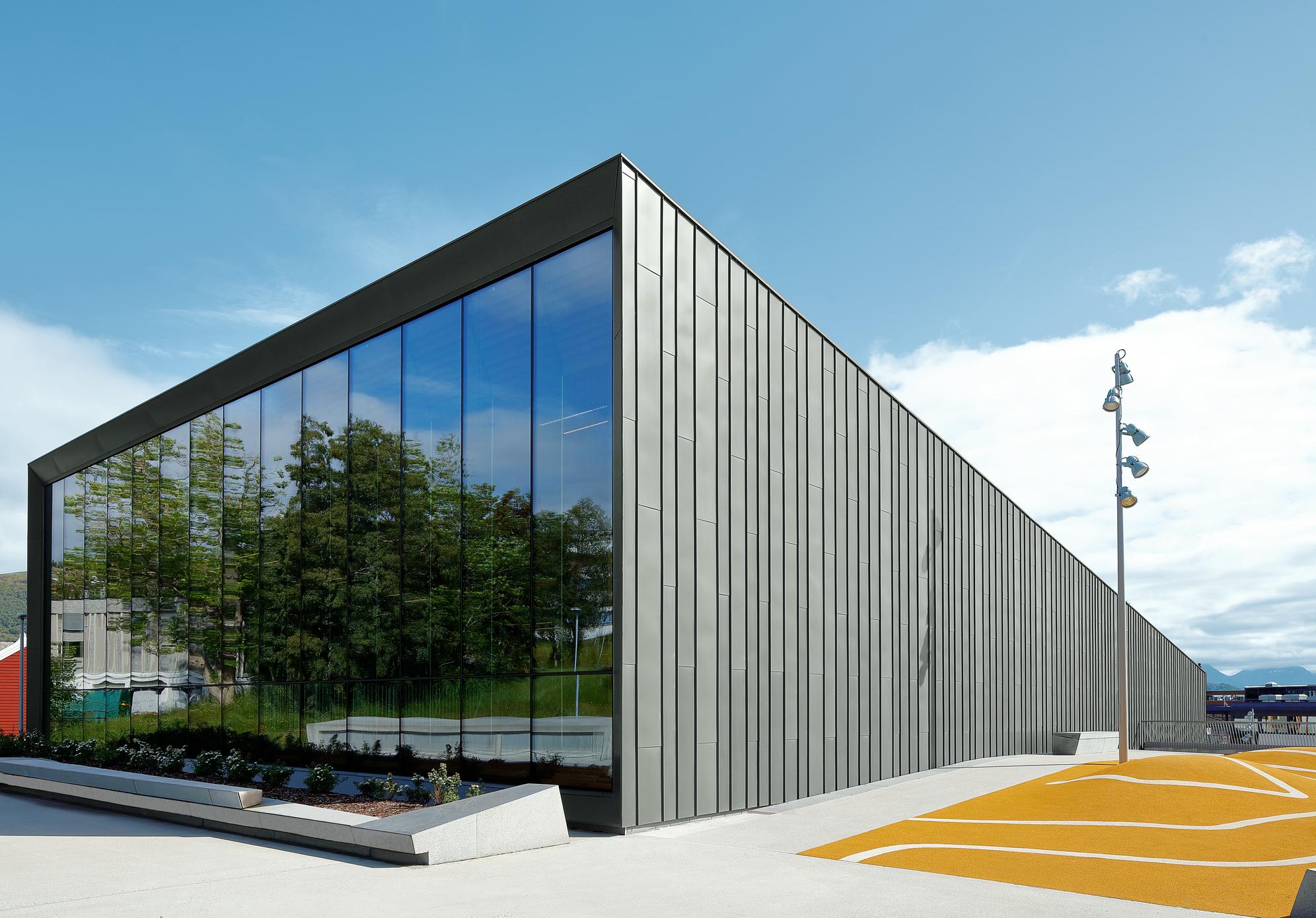 Ulstein Arena vant i 2018 Statens pris for byggkvalitet i konkurranse med Moholt 50|50 i Trondheim og Youngskvartalet i Oslo. Kommunal- og moderniseringsminister Monica Mæland og juryleder Erling Lae overrakte prisen til byggherren Ulstein kommune under Byggkvalitetsdagen i Oslo. Anlegget er tegnet av Lund+Slaatto Arkitekter.
All fasade er utført av Blikkenslagermester Even Helgesen AS i Ålesund. Materialet som er brukt her er RHEINZINK prePATINA graphite-grey og veggene er kledd med stående vinkelfals i tre forskjellige bredder. RHEINZINK ble valgt i konkurranse med rusttregt stål, aluminium og noen sementbaserte produkter. Titansink ble valgt for sitt utseende, et levende materiale og sin varighet. Nå ligger Ulstein Arena kystnært så utbygger er informert om materialets egenskaper og at det vil være fornuftig å spyle fasaden årlig selv om det er vedlikeholdsfritt.
Før valg av utførende var byggherre og entreprenør på befaring på Ishavsmuseet på Aarvåk hvor den samme blikkenslager Even Helgesen AS noen år tidligere hadde sinkjobben. Utbygger, entreprenør og arkitekt hadde god til å fullføre prosjektet og fortalte oss at Møt kompetanse med kompetanse og bruk gode underentreprenører var viktige faktorer for at de gikk helt til topps og vant Statens pris for Byggkvalitet. RHEINZINK har også bistått Lund + Slaatto Arkitekter med detaljer og utførelsesmetoder underveis.
Her er utdrag fra Juryen begrunnelse:
"Ulstein Arena er et forbildebygg som bidrar til å heve, fornye og utvikle byggkvalitet lokalt og nasjonalt. Med gode byggeprosesser har byggherre, prosjekterende og utførende sammen skapt et godt, bærekraftig og stedstilpasset anlegg. Samlokalisering av flere offentlige funksjoner er arealeffektivt og gir samtidig nye møteplasser for lokalsamfunnet, både inne og ute. Den fremragende fortettingen gir god stedsutvikling og løfter hele nærområdet. Ulsteinvik har fått et anlegg som innbyggerne kan være stolte av og ha eierskap til." (utdrag)
Vedlagte link viser en film fra start til mål.
http://www.lsa.no/arenaulstein
Velkommen til vårt kontor
RHEINZINK finner du utenfor Oslo i det den gamle Ankomst Utland bygget på Fornebu i dag kalt Technopolis, vis a vis Equinor (Statoil) bygget. Her er vårt kontor med utstillinger og tekniske hjelpemidler som kan bistå deg i din prosjektering eller bare gi deg god inspirasjon.
Ring oss gjerne og avtale et tidspunkt for en fagprat, uansett og prosjektet er stort eller lite.

RHEINZINK Norge
Martin Linges vei 25
1364 Fornebu
Tlf: +47 67540440
epost: info[at]rheinzink.no
You are on our global website.
Would you like to stay on rheinzink.com or visit the local RHEINZINK America website?