You are on our global website.
Would you like to stay on rheinzink.com or visit the local RHEINZINK America website?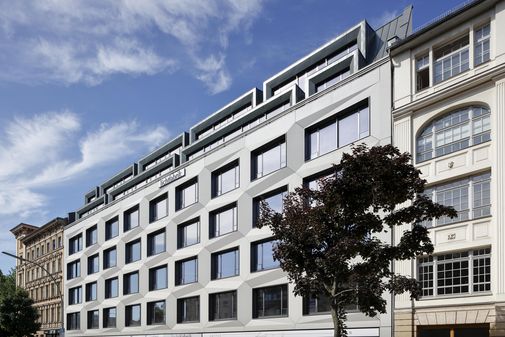 Berlin Lichtfabrik
Berlin, Germany
Client
Nicolas Berggruen Holdings GmbH
Architect/Planner
Bollinger+Fehlig Architekten GmbH BDA +
Stoeckert Architekten GmbH
Berlin
Contractor
TS Berlin Bauunternehmung GmbH
Technical Specifications
Roof: Double Standing Seam
RHEINZINK-prePATINA graphite-grey
Copyright Images
RHEINZINK
Architectural design with what cannot be seen! This apparent paradox succeeded on the roof of a new commercial building in Kottbusser Straße in Berlin-Kreuzberg: the completely concealed roof drainage and special seaming techniques on the dormers support the clear visual effect of the titanium zinc roofing.