You are on our global website.
Would you like to stay on rheinzink.com or visit the local RHEINZINK America website?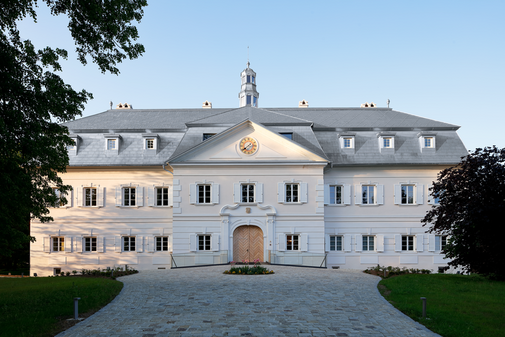 Château Gbeľany
Gbeľany, Slovakia
Client
Kaštieľ Gbeľany, s.r.o.
Gbeľany
Slovak Republic
Design Architect
BARAK architekti/Viktor Šabík
Nitra
Slovak Republic
Contractor
Kontrakting stavebné montáže, spol. s r.o., Žilina
Kooperácia: PLUTA-STRECHY, s.r.o., Kežmarok
Slovak Republic
Technical Specifications
Roof: 1,690 m² 15.9 t Flat Lock Tile System
RHEINZINK-CLASSIC bright rolled
Copyright Images
RHEINZINK
Château Gbeľany showcases a skilful combination of tradition and modernism. The beautiful baroque castle, which is at least 260 years old, was converted into a modern conference hotel while complying with the landmark protection. With its contradictions and the contrast between historic, playful and modern, reserved architecture, the castle makes a captivating impression even from a distance. This becomes especially tangible in the interior courtyard, which can also be used for open-air events and may be combined with the interior rooms through spacious glass walls. A total of 15.6 t of RHEINZINK titanium zinc with the RHEINZINK CLASSIC bright rolled surface quality were used in a double standing seam and flat lock tile system. You can find more information in the project report that can be downloaded on the left.