You are on our global website.
Would you like to stay on rheinzink.com or visit the local RHEINZINK America website?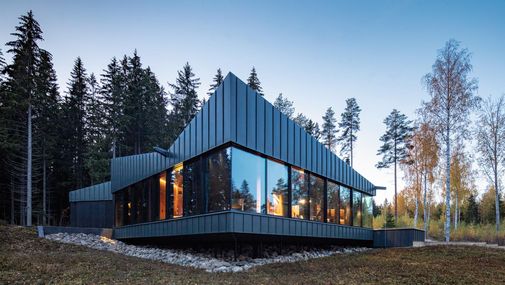 Mikkeli Square House Studio Puisto
Savonia, Finland
Client
Teemu Helppolainen
Finland
Design Architect
Studio Puisto Architects
Helsinki
Finland
Contractor
Peltipeite OY, Kari Kuisma
Naarajärvi
Finland
Technical Specifications
Roof: 400 m² 2 t Double Standing Seam
RHEINZINK-prePATINA graphite-grey
Facade: 200 m² 1 t Angled Standing Seam System
RHEINZINK-prePATINA graphite-grey
Copyright Images
RHEINZINK
A place of tranquillity
The "Three Square House" residence in Finland blends discreetly into its natural surroundings.
The residential building on the shore of Lake Saimaa, one of the largest lakes in the country, could easily be overlooked from a distance. Yet those who might think this is an unobtrusive, conventional cottage in a lonely location would be mistaken. Embedded in a spruce forest landscape, extraordinary structures in form, material and colour are presented, which in their entirety merge into a unity. Three interlocking structures boast a façade of black-oiled wood and graphite-grey titanium zinc. The architects have reinterpreted the classic monopitch roof in a playful and contemporary approach and designed it as an asymmetrical, multi-folded roofscape. Studio Puisto Architects from Helsinki is responsible for the expressive, modern look of the residential building.