You are on our global website.
Would you like to stay on rheinzink.com or visit the local RHEINZINK America website?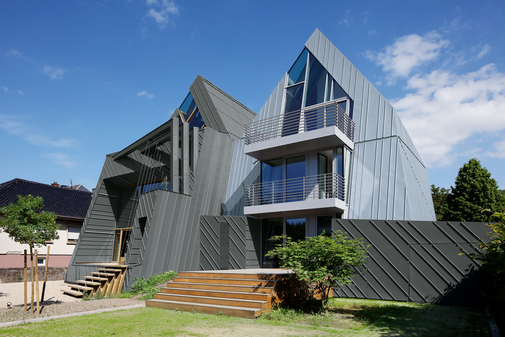 Office Building
Grevenmacher, Luxembourg
Client
Moseal SARL
Grevenmacher
Luxembourg
Design Architect
Bureau d'architecture WeB SARL
Grevenmacher
Luxembourg
Contractor
Toiture Antony E. SARL
Mertert
Luxembourg
Technical Specifications
Roof: 400 m² 5 t Angled Standing Seam System
RHEINZINK-prePATINA blue-grey
Facade: 600 m² 7 t Angled Standing Seam System
RHEINZINK-prePATINA blue-grey
Copyright Images
RHEINZINK
A different interpretation of having an office and home under the same roof. The twins among buildings can be found in Grevenmacher, Luxembourg. The architect wanted to combine a workspace and home while still creating a clear division between the two types of spaces. Although the duplex shares many characteristics, the differently designed facades distinguish each half of the house. Large glass fronts significantly shape the building's architecture.
RHEINZINK titanium zinc, installed with the angled standing seam technique, was selected as the material. The surface quality RHEINZINK-prePATINA blue grey was used for the residential section while prePATINA graphite grey was chosen for the office spaces. You can find additional information in a project report that can be downloaded on the left.