You are on our global website.
Would you like to stay on rheinzink.com or visit the local RHEINZINK America website?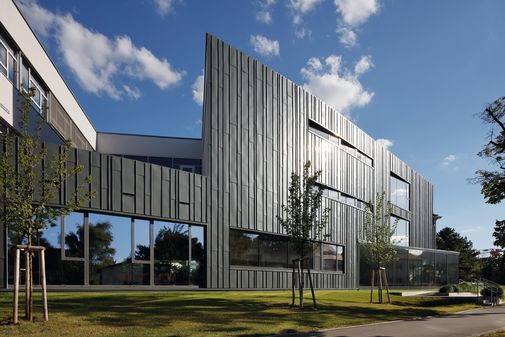 Primary School
Vienna, Austria
Client
Municipality city of Vienna - MA 56 Wiener Schulen
Vienna
Austria
Architect/Planner
NMPB Architekten ZT GmbH
Vienna
Austria
Contractor
Peter Hartmann Ges.m.b.H.
Vienna
Austria
Technical Specifications
Facade: 450 m² 5 t Angled Standing Seam System
RHEINZINK-prePATINA graphite-grey
Copyright Images
RHEINZINK
The primary school on Esslinger Hauptstrasse in Vienna's 22nd district was expanded with a very special new building. What might appear as arbitrarily arranged vertical lines on the facade at first glance are precisely planned installations of the material. The reason for the expansion is a conversion to a full-day school operation. The addition includes eight classrooms, two recreational rooms, a gym and a new dining hall with a kitchen to reheat foods. A total of 450 m² of RHEINZINK titanium zinc with the RHEINZINK prePATINA graphite grey surface quality were clad with the angled standing seam technique.