You are on our global website.
Would you like to stay on rheinzink.com or visit the local RHEINZINK America website?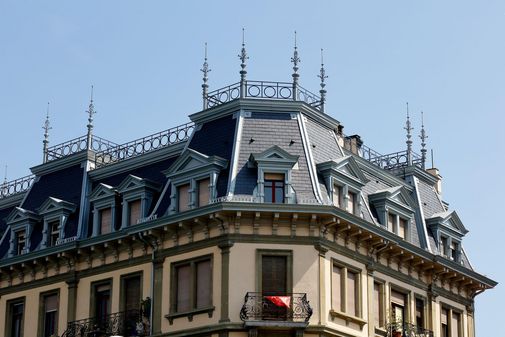 Private Residence Bälliz
Thun, Switzerland
Client
Mayencourt Nicolas p. A. Adlatus AG
Liebefeld
Switzerland
Architect/Planner
Adlatus AG Real Estate Partners
Liebefeld
Switzerland
Contractor
Ramseyer + Dilger AG
Bern
Switzerland
Technical Specifications
Roof: 800 m² 6 t Double Standing Seam
RHEINZINK-prePATINA blue-grey
Copyright Images
RHEINZINK
The roof landscape of the "Bälliz", the shopping mile in Thun, Switzerland, shapes the cityscape. This includes house number 12, which is one of the showcase houses from the period around 1900. The roof of the heritage-listed house was now restored according to the original style. The challenge was to bring the earlier charm of the building from 1902 into harmony with today's state of technology, work methods and materials.
The design and reconstruction of the new roof, dormers and decorative elements were carried out in line with old plans from 1900. A total of 300 m² of RHEINZINK titanium zinc with the RHEINZINK-prePATINA surface quality in blue grey were installed with the double standing seam technique. You can find more information in the project report that can be downloaded on the left.