You are on our global website.
Would you like to stay on rheinzink.com or visit the local RHEINZINK America website?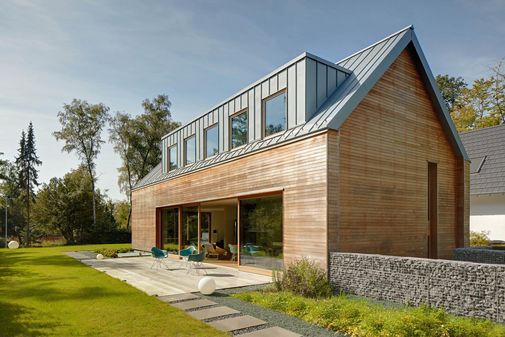 Residential Building Ratingen
Ratingen, Germany
Design Architect
Klaus Bürger Architektur
Krefeld
Germany
Supervising Architect
Klaus Bürger Architektur
Krefeld
Germany

Technical Specifications
Roof: 180 m² Angled Standing Seam System
RHEINZINK-prePATINA blue-grey
Copyright Images
RHEINZINK
Modern interpretation with zinc and wood

A modern interpretation of the Bergisch house was used to create a single-family home in Ratingen, North Rhine-Westphalia. The combination of classic titanium zinc and warm wood creates a special effect. The building, which is networked by means of a home automation system, has a total living area of 283 m². The roof was clad over an area of 180 m² with RHEINZINK-prePATINA blue-grey in an angled standing seam system, while the wooden façade is made of Douglas fir. The attractive contrast was not the only reason for choosing these materials. Because both RHEINZINK-prePATINA and wood are durable and environmentally friendly, and therefore perfectly suited for sustainable construction.