You are on our global website.
Would you like to stay on rheinzink.com or visit the local RHEINZINK America website?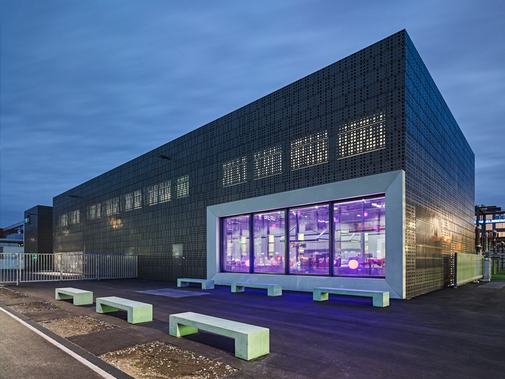 Substation and Grid Base Oerlikon
Zurich, Switzerland
Client
Elektrizitätswerk der Stadt Zürich
Zurich
Switzerland
Design Architect
illiz architektur ZT OG, Vienna, Austria
illiz architektur GmbH, Zurich, Switzerland
Contractor
Ammann & Thürlemann AG
Zuzwil
Switzerland
Technical Specifications
Facade: 21 t Surface Design
RHEINZINK-prePATINA graphite-grey
Copyright Images
Roger Frei, Zürich
Is it really impossible to visualise electricity? The new construction of the substation made it happen. The grid base in Zurich-Oerlikon is a brilliant symbiosis of architecture and technology. The iridescent facade complies with safety measures while keeping the high-voltage switching station publicly visible and accessible. The centrepiece of the new construction is a 150 kV high-voltage switching system with an oversized window box that allows it to be viewed from the outside. The walls of the window box are clad with a multimedia mirror installation so that the viewer can be fascinated by the electronic systems. A total of 20.6 t of RHEINZINK titanium zinc with the RHEINZINK prePATINA graphite grey surface quality were used in cassettes. A large part of the cassettes had an openwork design so that the audible and tangible humming of the electricity could be visualised. You can find more information in the project report that can be downloaded on the left.