You are on our global website.
Would you like to stay on rheinzink.com or visit the local RHEINZINK America website?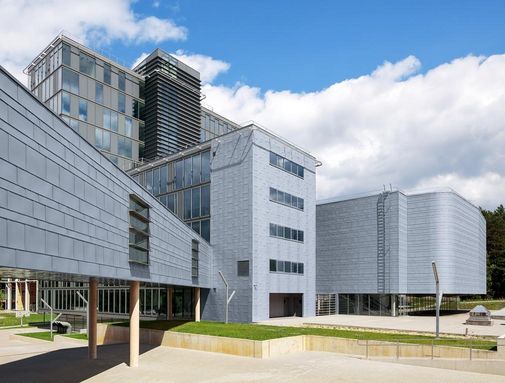 VGTU
Vilnius, Lithuania
Client
Vilniaus Gedimino technikos universitetas (VGTU)
Vilnius
Lithuania
Architect/Planner
A.S.A. Sigito Kuncevičiaus projektavimo firma
Vilnius
Lithuania
Contractor
UAB Vytrolma
Utena
Lithuania
Technical Specifications
Facade: 3,650 m² Flat Lock Tile System
RHEINZINK-prePATINA blue-grey
Copyright Images
RHEINZINK
Vilnius – more than 550,000 people live in the capital of Lithuania. The city is about 40 km from the border to Belarus and is one of Europe's oldest university cities. One of the largest and most innovative higher education institutions is the Technical Gediminas University (Vilniaus Gedimino technikos universitetas − VGTU). The more than 11,000 students have access to ten faculties, various research institutes and partnerships with higher education institutions around the world.
The University has been able to use a new science and administration centre since 2017 and makes it possible for the students to prepare for their careers with creativity and social engagement. The impressive structure consists of three modern main buildings and a large gate for the entrance area, which also symbolises the openness of the VGTU. A total of 3,650 m² of the facade were clad with RHEINZINK titanium zinc in the RHEINZINK-prePATINA blue grey quality. You can find more details in the project report that can be downloaded on the left.