Zink er et hållbart material, som kan användas om och om igen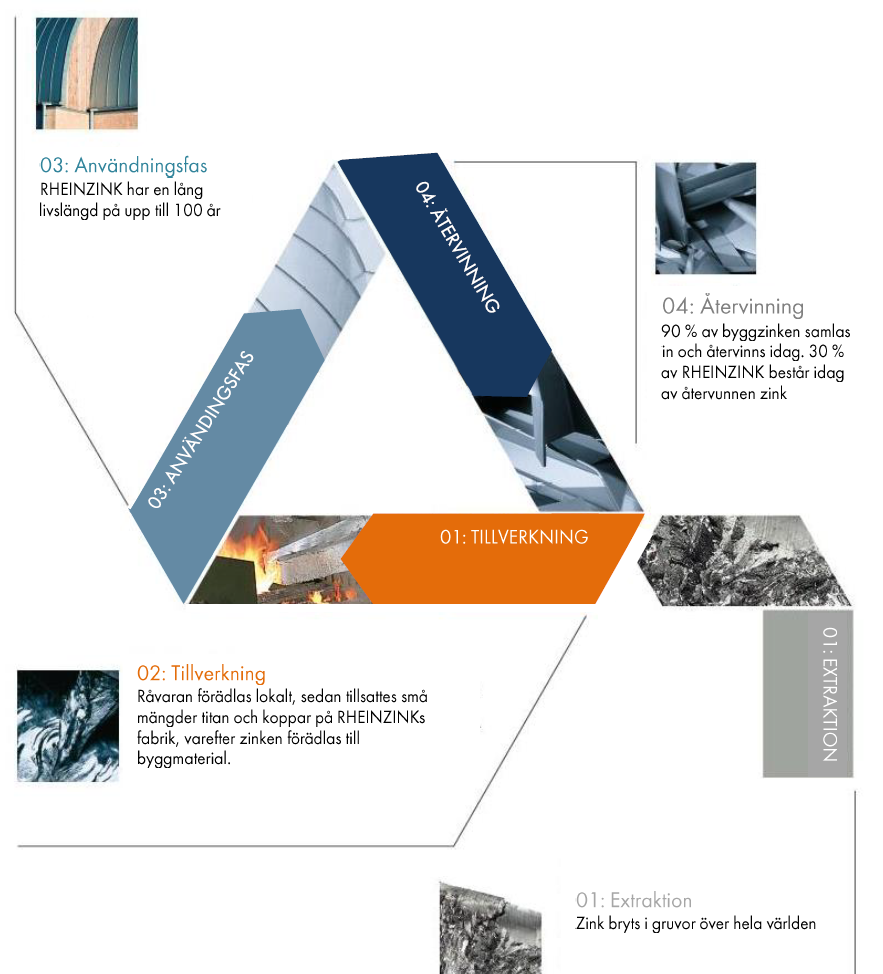 Zink kan användas om och om igen utan att förlora materialvärde. Idag består RHEINZINKs produkter av 30 % återvunnen zink, och detta berättigar till en Cradle to Cradle Bronze-certifiering.
Zink är ett hållbart material
Naturens resurser är inte oändliga och därför är återbruk, insamling och återvinning av byggmaterial en viktigt idag. Utveckling av system som sätter materialinsamling i system är i snabb utveckling, och det gäller även RHEINZINK.
Redan idag består RHEINZINKs produkter till 30 % av återanvända eller sekundära material, som de också kallas. Till skillnad från många andra återvunna material tappar zink inte i värde vid återvinning, utan behåller sin ursprungliga, höga kvalitet. Den andelen kommer att öka i framtiden när RHEINZINK förverkligar idén om ett retursystem där zink som avlägsnats från befintliga byggnader skickas tillbaka till RHEINZINK och börjar sitt nästa liv i den materiella näringskedjan.
Mindre påverkan på miljön med återvinning
En medvetna strategin innebär att RHEINZINK både bidrar till att minska slöseri med materialresurser och att belasta miljön mindre, eftersom det bara krävs 5 % av den totala energimängden för att återvinna zink jämfört med att producera ny zink från grunden. Det är därför logiskt att RHEINZINK fortsätter att ha ett starkt fokus på Cradle to Cradle-certifieringen och ständigt arbetar med att uppgradera den.
You are on our global website.
Would you like to stay on rheinzink.com or visit the local RHEINZINK America website?